Industrial Chinatowns: A Visual Essay
People often think about Chinatowns as playgrounds for consumption: dim sum, dumplings, porcelain wares, foot massages, knockoff designer bags. Guidebooks and articles describe Chinatowns as exotic cultural buffets to be devoured, peppered with phrases like "
fantasyland for foodies
." Yet, beyond the food stalls and gift shops are a less visible array of adjacent Chinese-owned industrial businesses, critical to the systems that shape NYC. Our visual essay explores the industrial manufacturing zones that have grown up around Chinese enclaves. We want to re-imagine the dominant narrative on Chinatowns as places of consumption, illuminating the "hidden" materials, labor, and economies that enable New York's manufacturing and construction industries.
Through visual narrative, we capture industrial Chinatowns scenes in Flushing, Sunset Park, and Maspeth. Our photo-illustrations trace the distinct textures of industrial Chinatown landscapes of tiling and flooring companies, roofers, construction material import-exporters, and food wholesalers that make up the literal building blocks of our city. The extent and nature of these Chinese industries are challenging to capture through traditional land use or economic datasets, and are often only recognizable as parts of greater Chinatown through visual survey. We want to take back the narrations imposed upon our own enclaves and push back on the unchecked consumption of our culture, in order to re-image and self-determine the stories being told around Chinese-American identities.
︎ Scroll to the bottom for a zine version ︎
Flushing


Just beyond Northern Boulevard, a few blocks away from the aromatic food courts and glassy hotels of downtown Flushing, is a dense network building material purveyors each boasting the best supply of granite and stone. These buildings clad themselves in their wares, displaying elaborate mosaics of tiles, roofing, stone carving, and ironwork on their building façades for all to see.
NY Great Stone offers a wholesale stone a granite studio among a series of cabinetry warehouses on 33rd Ave in Flushing.
Beneath the overgrown LIRR tracks, Express Tile Studio and SJ Cabinetry Corps have warehouses and showrooms for potential builders.
A small metal triceratops sculpture and a display of screens sit outside this small and intriguingly named shop.
Located at the corner of Northern Boulevard and Prince Street, this two-story discount pet store plastered with weathered posters of whimsical animals.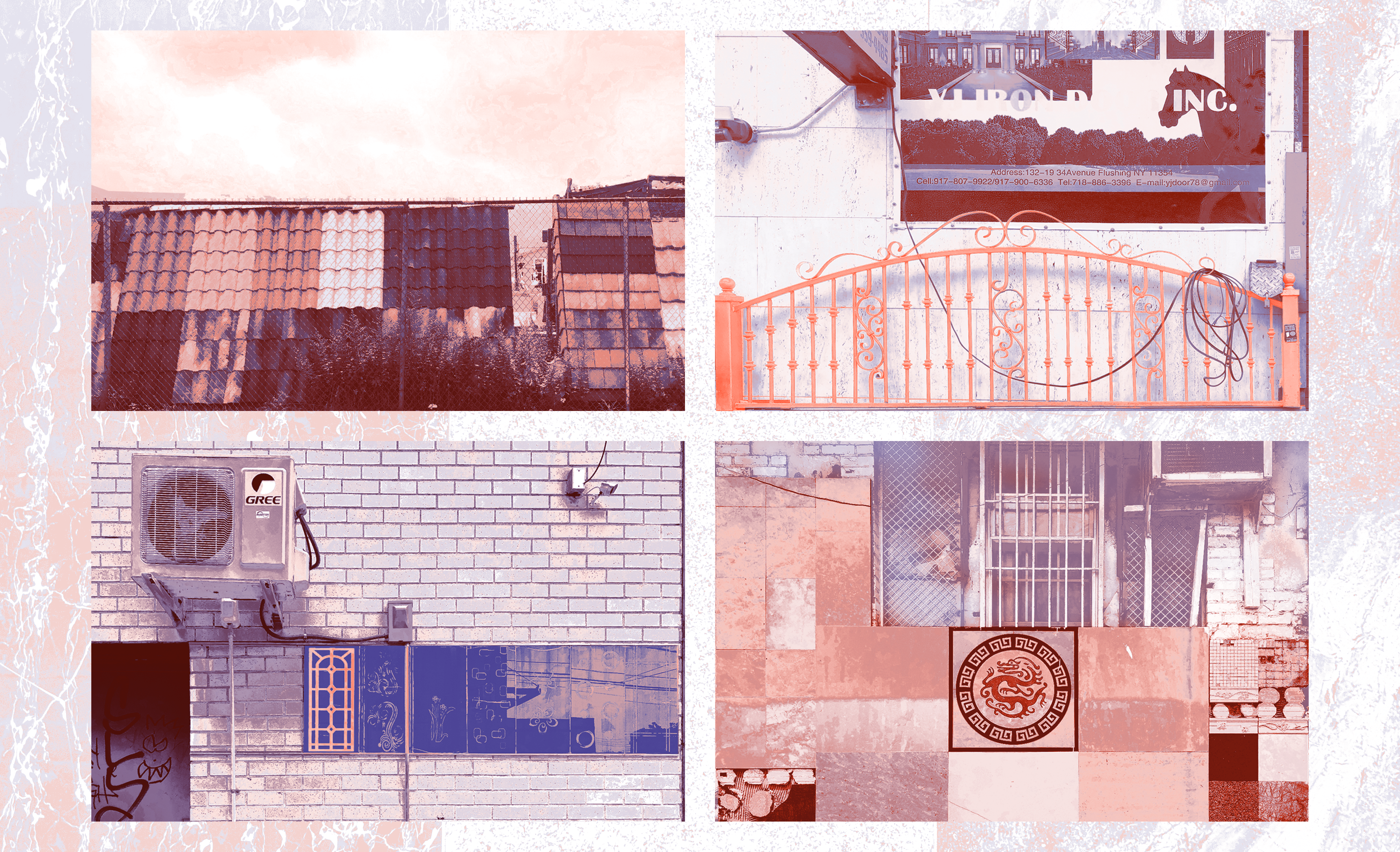 The roofers, tilers, ironworkers, and stonemasons in Flushing display their wares along their building facades for all to see.
Sunset Park

Nestled between the Belt Parkway to the east and the working waterfront to the west, Sunset Park's industrial zone bustles with activity. A network of auto body mechanics, beauty suppliers, cabinetry, food wholesalers, and a nail worker association highlight the behind-the-scenes functions that support thriving neighborhoods.
L&T Modern Kitchen has several locations throughout Sunset Park to house showrooms and warehouses of modern kitchenware.
As residential Sunset Park transitions to industrial Sunset Park, the Chinese American Nail Salon Association sits next to brownstone apartments, an ironwork shop, and an auto body mechanic.
Signage in industrial Chinatowns, such as these in Sunset Park, are peppered with phone numbers.
Maspeth


While Maspeth is not often thought of as one of NYC's core Chinatowns, this neighborhood is home to a sizable Asian population alongside a concentration of businesses that support wholesale import/export of consumer goods. Billboards advertising everything from toys and Christmas trees to clothing and handbags line the streets with sights of everyday products.
Colorful billboards advertise everything from electronics and home goods to clothing along Flushing Avenue in Maspeth.
With colorful signs of children's toys and Christmas trees, Jia Hua Trading Inc evokes a modern-day Maspeth twist of Santa's Workshop.
Super Star LLC is a two-story wholesale center in Maspeth for hats, scarves, gloves, handbags, and other accessories.
---
We made a zine version also!
Interested in a copy?
Contact us
︎